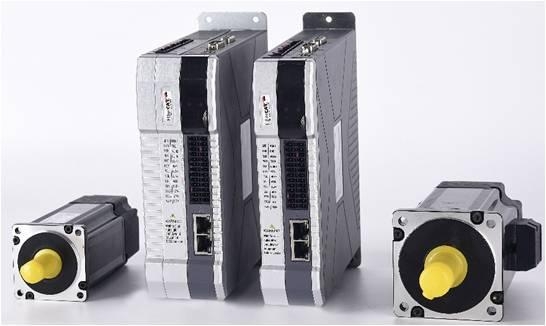 Product Description:
Power voltage: 220V / 380V (EM Series) ;

Output power :0.2kW、0.4kW、0.8kW、1kW、1.5kW;

Encoder: provincial line incremental, absolute value, dual encoder interface to support full closed loop;

Digital IO signal: 5 channel input 4 channel output, in which 4 inputs and 3 outputs can be configured;

Analog signal: 2 inputs, 2 outputs .
Product advantages:
High performance: current loop frequency response 2.5kHz, speed loop frequency response 1.6kHz. Communication speed 100Mbps. With self tuning function, and with the variety of vibration damping filter.

High function: terminal jitter suppression function, friction compensation function, motor cogging torque compensation function.

Operability: Support PC software for parameter setting, waveform monitoring; support servo position, speed and torque control, start stop, positive and reverse control, state monitoring, and so onThe servo drive communication with different addresses is supported.

Standard: comply with safety standard STO/SS1/SS2/SBC, comply with motion control specification CIA402.